Today I am excited to show you a way to knock off an expensive wall art item by using paint and giant plastic scissors from the Dollar Tree.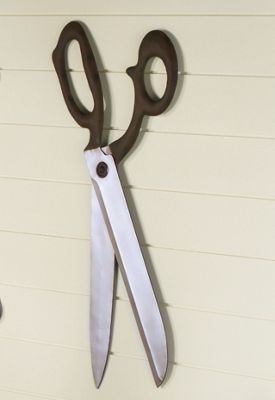 Sold by Through the Country Door
My inspiration for this project came from Through the Country Door.  I was looking for school themed wall decor to decorate the family workspace I am putting together.
I started with a giant pair of plastic scissors found in the toy section at the Dollar Tree.
I primed it with inexpensive white spray paint.
To make the blades look more realistic, I brushed on Deco Art's Crafter's Acrylic Paint in black and wiped it off.
This is the technique I used to make my faux silver bowl.  I think it makes the silver paint go from looking cheap to looking like real metal.  I love this finish!
And there you have it:  awesome scissor wall art for a few dollars!