Make  faux pewter bird and pedestal bowl with this technique.
Can you believe that this rich looking pedestal bowl cost less than $5 to make?  And that it's made of glass, not silver?  Read on to learn how you can recreate this look yourself!
First I glued the plate, candle stick, and bird together using E6000.
The next day I glued on the flowers, also using E6000.
I let it dry for one day and then primed the entire project with inexpensive white spray paint (not pictured).
I used the Krylon metallic paint to cover the entire project.
Use a sponge brush or a dry bristle brush to cover one section at a time with black acrylic paint.
Gently rub off the excess paint with a dry washcloth.  Work in small sections.  If you make a mistake, just add more paint and then rub it off again.  Repeat this process to cover the entire project (bird, bowl, and pedestal).
Here is a close up of the finished bird.  Doesn't it look like aged silver?
 I truly love the end result of this faux pewter bird bowl and cannot wait to make more of these!  I hope you'll give this fast, frugal, FABULOUS project a try!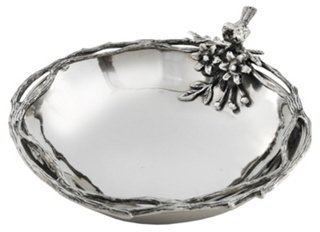 This project was inspired by this piece at One King's Lane.